Network Rail has said that the new Ordsall Chord bridge connecting three railway stations in Manchester will open on 10th December to coincide with the start of the new timetable.
The 300m (980ft) Ordsall Chord viaduct links Piccadilly, Oxford Road and Victoria stations enabling more trains to travel through the city centre.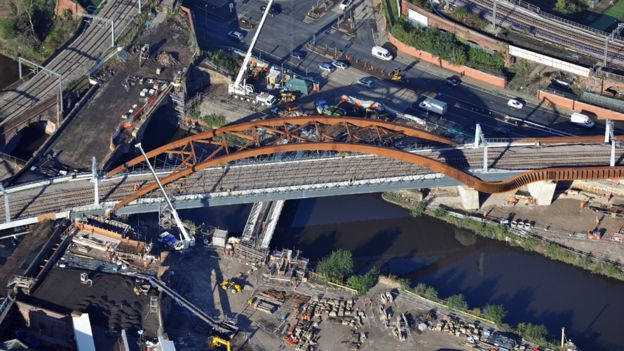 The £85m rail link is a major part of the Northern Hub upgrade for rail services across the North of England.
It will increase capacity, ease congestion and provide a direct service through to Manchester Airport.
Construction, which has taken two years, included realigning existing track, building new bridges, removing disused arches and restoring Grade I listed structures.
A special ceremony is being held to mark the completion of a new rail link that
connects Piccadilly, Victoria and Oxford Road Stations.
It's iconic new bridge is located close to where in 1830 George Stephenson's unveiled the Liverpool-Manchester railway, the birthplace of modern inter-city railways.