Italian flair links London to the air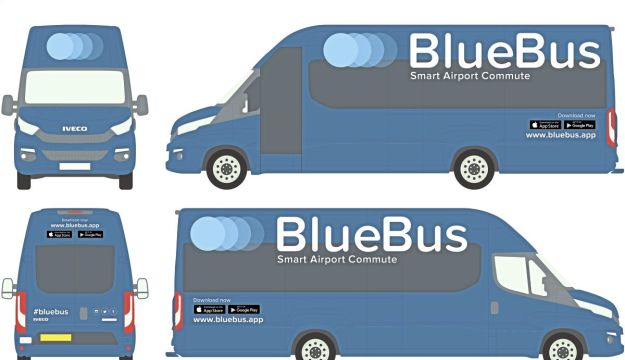 Young Italian-born entrepreneur, Tazio Puri Negri, is setting up a shuttlebus service between north London and Luton Airport.
The operation, entitled BlueBus, was founded by Tazio and business partner, Joan Rodes. Work on setting the service up took place in December 2017. Tazio said: "I realised there was no really comfortable, direct way to the airport from London. And the taxi is super-expensive."
The operation is due to go live in October and, staying true to his Italian roots, Tazio chose Fiat to lease the vehicls. Iveco Daily minibuses are to be used on the service: "On big buses, people don't feel so comfortable," said Tazio. "These are great minibus shuttles we have and they will drop you off as near to your home as we can."
An Uber-style app is used by passengers to book the transport, matching customers to the closest pick-up point. All payments are made through the app, no cash is handled aboard the vehicles. The fare starts from £7.99. Tazio said: "We want it to be high quality, but accessible to all."
Tazio has previous business experience working in the beauty and finance industries. The 25-year-old has chosen a specially designed uniform for BlueBus drivers, which is inspired by WWII aviation suits.
In setting up the operation, the most challenging thing for Tazio was gaining the licensing required. The plan is to expand the operation to other airports in the vicinity of the capital, including Stansted. Tazio said: "I'm very excited. It's been a lot of hard work, but it is coming together slowly."
NOW SEE THE LATEST ON THE NEW FOCUS FLICKR SITE:
Keeping the wheels on the ground and staying in London, the latest album focuses on that colourful period during the 1980s and 90s, when there were a variety of colourful liveries around on the LRT route network. The pictures can now be viewed by clicking
here