Government hands London mayor Sadiq Khan £350m loan for delayed Crossrail

The bailout will cover additional costs to the £15bn project as a result of its opening date being pushed back to next year.
The government has given London Mayor Sadiq Khan a £350m loan to cover additional costs caused by delays to the Crossrail project.

The financial help for the capital's new railway was revealed in a written statement to parliament by Transport Minister Jo Johnson on Friday 26 October.

Earlier this year, it was announced the new £15bn route through central London will open almost a year later than planned.

Crossrail's initial opening date was December this year, but its central section now won't run until autumn 2019.

The extension was said to have been required for "final infrastructure and extensive testing".

Mr Khan admitted the delay had caused additional costs for the project - to be known as the Elizabeth Line when open - which will be met by the central government bailout.

He said: "I was angered, disappointed and frustrated when I was told by Crossrail Ltd that the central section of Crossrail wouldn't open in December as had been promised for a number of years now. It's quite clear, as a consequence of that delay, there are additional costs to be expended. I've met with the chancellor, I've spoken on a couple of occasions with the secretary of state for the Department for Transport. As joint sponsors, we agree this amazing project has got to be finished."

The Canary Wharf Elizabeth Line development above the new station built inside a cofferdam, a structure
being a watertight enclosure pumped dry to permit construction work below the waterline, as when building bridges or repairing a ship.
Speaking in Brussels after meeting the EU's chief Brexit negotiator Michel Barnier, the London mayor added he is "optimistic" a deal can be struck to make sure the capital can afford for Crossrail's construction to be completed.

However, Mr Khan signalled the overrunning costs would not impact on his promise to keep public transport fares frozen in the capital when he was elected as mayor in 2016.

"When Crossrail opens it's going to be a fantastic line, the Elizabeth Line is going to be amazing; an increase in public transport capacity by more than 10%," he said. "A public transport system fit for the 21st century."

The mayor added: "I campaigned to freeze TfL [Transport for London] fares, I've frozen them for the first two-and-a-half-years. I intend to continue to freeze for the remainder of my term."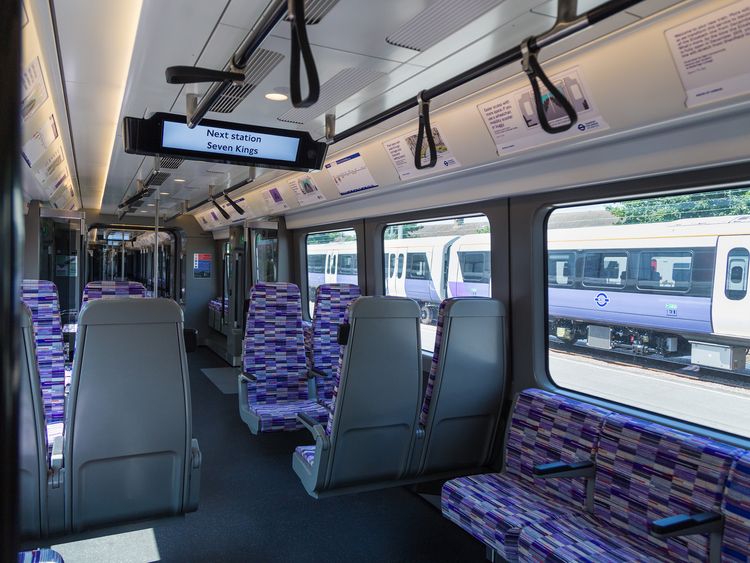 Once finally completed, Crossrail will take passengers from Abbey Wood, in London's south east, to Heathrow Airport to the west of the capital.

Services are also planned to run from Shenfield in Essex to Reading in Berkshire.

Mr Johnson has already announced this year that Crossrail's budget was being increased from £14.8bn to £15.4bn due to "cost pressures".

Revealing the latest increase in costs on Friday, Mr Johnson wrote: "As an interim measure, we are announcing that £350m of short-term repayable financing will be made available to the mayor for the year 2018/19. This will ensure that full momentum is maintained behind Crossrail. This project is already delivering benefits for the whole of the UK through its cross-country supply chain and its UK built train fleet. When open, Crossrail will be transformative and carry up to 200 million passengers a year, delivering £42bn of investment into the UK economy. A further update will be provided once the discussions on the financing arrangements have concluded.
Mr Johnson stressed London would bear any additional costs via the financing arrangement.

An independent review of Crossrail's running and financing has been commissioned by the Department for Transport and TfL.